Is your organization prepared for the future of cloud security?
With 92% of organizations using cloud services, from simple storage to managing entire cloud-native workloads, your organization is most likely using the cloud, or working with a multi-cloud or hybrid cloud environment.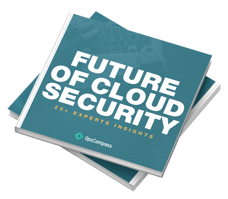 To better understand where the future of cloud security is headed, and leverage the benefits cloud provides, we created this guide to share our expertise as well as what we learned from talking to experts in the field.
Download OpsCompass' Future of Cloud Security Report to learn:
The current state of cloud security

The top trends shaping cloud security

Training for the future of cloud security

Predictions for the future of cloud security